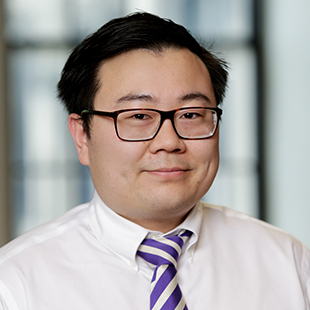 Steve Xu
Physician-engineer
The rise of wearables and sensors is revolutionizing all of medicine. The skin is where these devices are often placed. Dermatology has a front row seat to this revolution with sensors playing an integral part. In this talk, we'll discuss new and emerging sensor technologies and their relevance to skin health from medical dermatology to aesthetics.
Steve Xu MD FAAD is a physician-engineer and board-certified dermatologist with appointments as the Medical Director of the Querrey Simpson Institute for Bioelectronics at Northwestern University, Assistant Professor in the Department of Dermatology and Pediatrics (Dermatology) at Northwestern's Feinberg School of Medicine, and Assistant Professor in the Department of Biomedical Engineering at Northwestern's McCormick School of Engineering. He received his undergraduate degree in bioengineering from Rice University summa cum laude.
He completed his medical training at Harvard Medical School with special honors as a Soros Fellow, and a Masters in Health Policy and Finance with Merit from The London School of Economics as a Marshall Scholar. Finally, he completed an NIH-funded post-doctoral fellow in Northwestern's Department of Materials Science and Engineering under Professor John Rogers. Dr. Xu has authored more than 100 peer-reviewed publications and listed as an inventor on 13 pending and granted patents in the fields of digital health, medical device development, and medical innovation. He is an NIH and DoD funded investigator with medical device innovations across multiple medical fields including dermatology, global health, orthopedics, cardiology, pediatrics and patient non-adherence. Several of his inventions have been licensed, FDA-cleared, and commercialized by external companies with deployments in more than 20 countries worldwide touching thousands of patients. His publications have appeared in Nature, Science, and the New England Journal of Medicine garnering press attention from The New York Times, CNN, The Washington Post, and The Los Angeles Times.
Skin & Digital Summit DEC 11th
Tech and the Dermatologist's point of view
Digital Dermatology: Sensors and the Future
This algorithm doesn't replace doctors – It makes them better
Towards augmented intelligence in dermatology
AI in skin cancer: from education to diagnostics
Q&A with the audience